fix bar
fix bar
fix bar
fix bar
fix bar
fix bar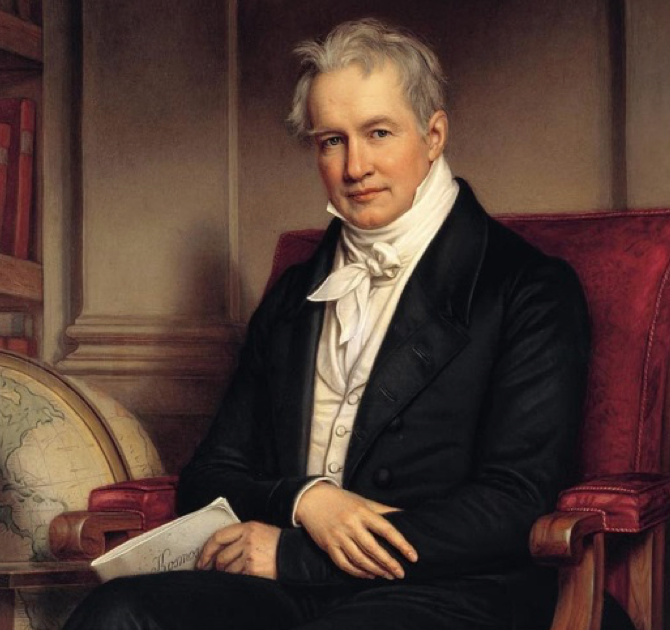 Dr. Helmuth
Spiritual Mentor of the Group Anjos de Luz
Friedrich Wilhelm Heinrich Alexander Von Humboldt (Dr. Hemulth), Baron Humboldt, was born in Berlin in the Kingdom of Prussia on 14 September 1769. Known as the Alexander Von Humboldt, he was described with a rarely seen versatility and ability to describe precisely what he found and discovered, contributing immensely to many different areas like ethnography, anthropology, physics, geography, geology, mineralogy, botany, vulcanology, and humanism. He managed to lay the foundations of sciences like geography, geology, climatology and oceanography.
Considered a very important scientist for his time, a very interested observer, he travelled through the whole Europe, Mexico, Central America, Colombia and Venezuela.
His advocacy of long-term systematic geophysical measurement laid the foundation for modern geomagnetic and meteorological monitoring; made the use of the barometer to determine the altitude and other geographical features like the relief. In botanical geography, he laid the foundation of biogeography, the relation of the plants with the soil and climate; he formulated and applied what would later be called The Causality Principle by Emmanuel de Martone, and the Principle of Compared Geography.
During the last 25 years of his life, Humboldt was chiefly occupied with writing Kosmos, one of the most ambitious scientific works ever published where he sought to unify diverse branches of scientific knowledge and culture, proposing an integrated and more holistic vision of the universe. In Kosmos, he managed to put together both the quantitative aspect, harnessed during his travels, and the qualitative aspect arisen from his theorization. The quantitative aspect was extremely rich as Humboldt was very meticulous and rigorous in his observations and registrations; he would include information related to atmospheric temperature, ground temperature, pressure, wind, tidal range, magnetic variations, rocks, fauna, flora etc.
Four volumes appeared during his lifetime. Written in a pleasant, literary style, Kosmos gives a generally comprehensible account of the structure of the universe as then known, at the same time communicating the scientist's excitement and aesthetic enjoyment at his discoveries. He was rewarded for his effort by the success of his book, which, within a few years, had been translated into nearly all European languages. While still working on the fifth volume of Kosmos with hardly diminished vitality but with enthusiasm and an unimpaired memory, He died in May 6 1859 (aged 89).